Quiver killing performance short board shape for all conditions
The Air E Ola surfboard is the perfect high performance shortboard surfboard for aggressive, progressive surfers. Fast, precise surfing in all conditions. Ridden at standard lengths and widths.
*Fins NOT Included
What are B-Grades?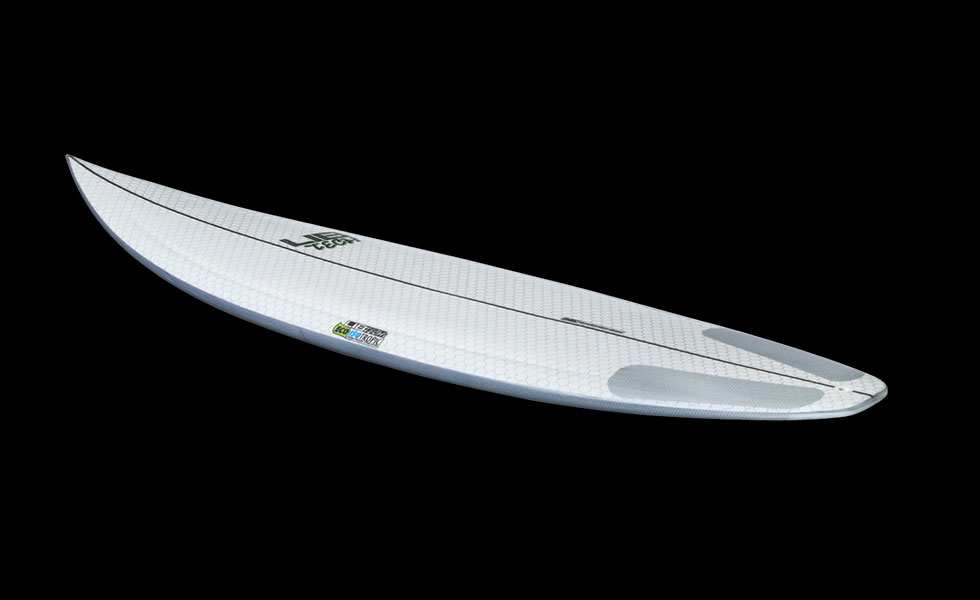 Board Specs
Length
Width
Thickness
Volume
5'5"
18.375"
23.5 cl
5'7"
18.625"
24.8 cl
5'9"
19.0"
26.5 cl
5'11"
19.375"
28.1 cl
6'1"
19.75"
29.9 cl
6'3"
20.375"
32.1 cl
TECHNOLOGICALLY TOUGHER - environMENTALLY NICER!

We love surfing and surfboards but... traditional surf construction is delicate and the build process is toxic and unhealthy… we knew there had to be a better way. 12 years ago, Mike Olson set out to make a stronger, longer lasting more environmentally friendly surfboard. He applied his 30 plus years of experience handcrafting and riding high performance composite surf, skate and snowboards to the task. In the process, he completely rewrote the book on surfboard construction. Each of the 31 pieces used to construct our ECO IMPACTO surfboards are new materials to the surf industry. Our unique Thermo Pressure Fusion Process creates an amazingly durable, environmentally friendly, high performance surf structure that frees your mind and lifts your surfing to new heights.
All of our boards are handcrafted in the USA near Canada.
NEW! FOC II FIN BOX SYSTEM

FCS II compatible!
Two Tab compatible with 1/2" fin adjustability for precise tuning of your boards surf characteristics
Stronger and lighter box
MAGNESIUM FIBER

Tough & Resilient!
High impact and break strength fiber
Great rebound / memory
BASALT FIBER

Smooth & Strong!
Pure additive-free mineral fiber
Natural dampening properties
Break and impact resistant
CARBON POWER SPINE STRINGER

Dynamic energy & long lasting flex
Tension spread to carbon fiber
Rebound energy return
Perfect flex tuning
NITROGENECELL FOAM

Strong, Light, Waterproof
Environmentally friendly nitrogen blowing agent
Elliptical engineered cells act like a column providing stiffness from top to bottom and "nerf-like" elasticity in side impact
Recycled: 25-40% recycled content, 100% of off cuts recycled
HEXZYLON FIBER FOAM SKIN

Strong & Smooth!
Smooth riding vibration absorption layer
Impact and ding resistant
BIO-MATRIX RESIN

Strong & Nice!
Low VOC glycerin based chemistry
Surfs smooth like a new polyester board
Longer lifespan than epoxy
ELASTO PERIMETER DAMPENING FIBER

Smooth & Strong!
Flex control, pop, precision
Impact resistant
SPROCK BLOCKS

Crush & dent resistant!
Strong
Poppy
New carbon red (*Funnelator)
LIB TECH LEASH PLUG

Better Basics!
6061 T6 Aircraft aluminum pins
Lightweight fiber composite cup