When Canadian Lib Ripper Liam Gill got a chance to go to the Olympics it wasn't just an important moment for him and his family and all the hard work they had put into this competitive journey. It was also an important moment for Canada as he was the only male Canadian First Nations athlete at the 2022 Winter Olympics. Liam is part of the Liidlii Kue First Nation a Dene First Nations band government in Canada's Northwest Territories who's headquartered in the community of Fort Simpson where Liam's Grandmother Rosemary and many more of his relatives still reside. Years earlier Rosemary had shared with Liam and his mother Joanna that the band, Liidlii Kue First Nations (LKFN), had put together a snowboarding program. Liam and his family started planning a trip then (20/21) but it was postponed due to Covid and then it was postponed again when Liam got a chance to go to Beijing. So straight after Liam's whirlwind Olympic experience he came home and jumped on a 10 day tour of Northwest Territory First Nations communities to share his stoke for snowboarding not only as a member of the community but also as an Olympic athlete.
Liam's tour hit three Northwest Territory locations; Fort Smith, Fort Simpson and Yellowknife.
FORT SMITH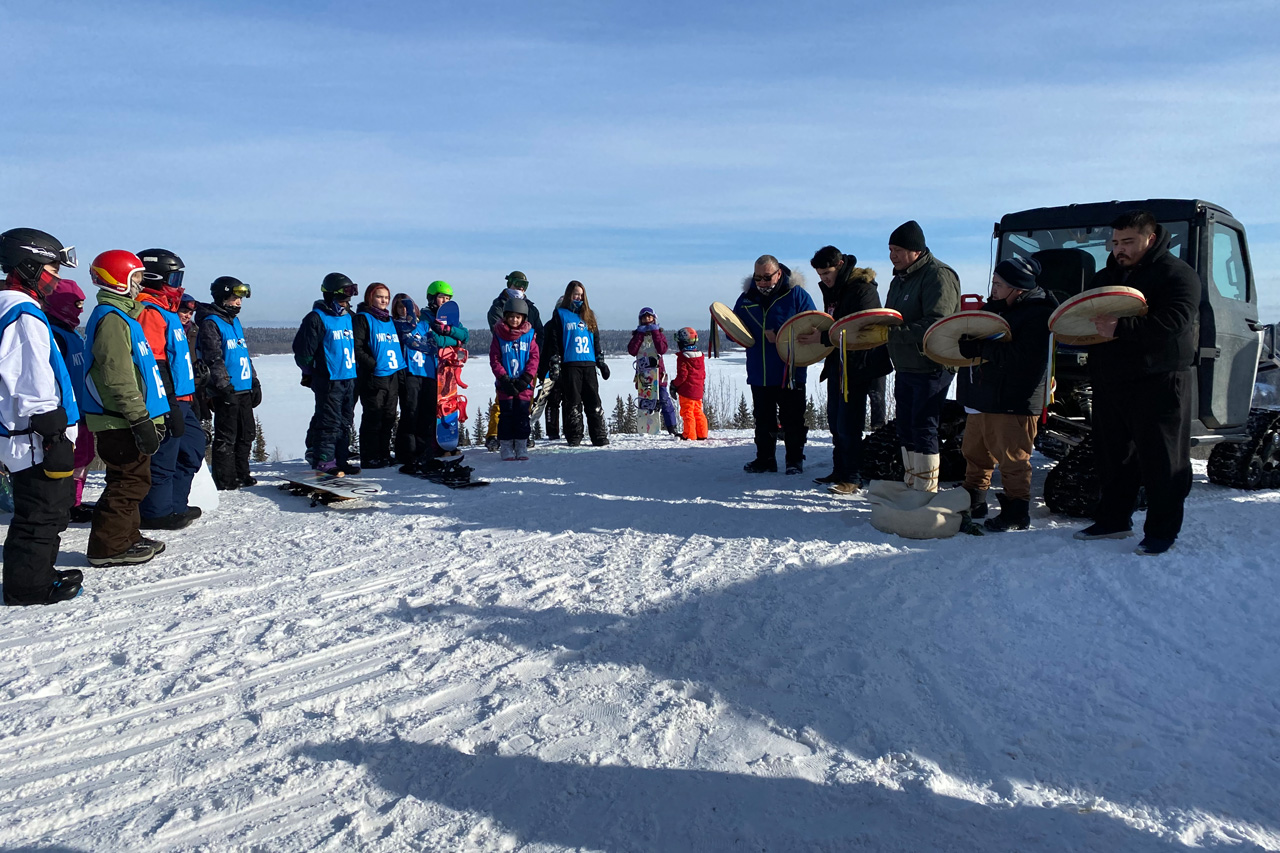 The Dene drummers in Fort Smith led a daily Safety Prayer for the riders and participants/volunteers. This stop was a Territorial qualification event for team selection in Arctic Winter Games along with the annual Big Fun event.
Neither Fort Smith or Fort Simpson have any type of lift or tow rope. It's a ride in the sled or a walk up the hill type situation. All the snowmobiles are owned by parents or older teens who volunteer their time and equipment to help the kids do laps.
Every year all the kids in the program vote on who embodied the 'Spirit of Snowboarding' and Liam decided that the winner should also win a Lib Tech board as a prize. In the end it was a tie and Liam ran back to the hotel to grab a second board to award to both of the winners!
Liam receives handmade gloves with traditional Dene beadwork as a personal gift from Sadele, a past Coach of Liam's. The gloves were given to Sadele by his father who was a Residential School survivor and an important figure in the area. It turns out Liam's grandmother attended the same Residential School as Sadele's father adding to the significance of receiving this gift. The gloves are a connection Liam didn't know he had with a past coach and the power of passing down heritage despite the challenges Indigenous communities have faced in the past.
Residential Schools have been responsible for many negative impacts on Indigenous Communities the least of which is shame of your own heritage. Sadele saw Liam as an opportunity for a community to be proud of who they are and who they can be despite the past and what some tried to do to peoples across this country. The plan is to pass the gloves on to a deserving indigenous person in the future.
– Joanna Gill
FORT SIMPSON
The stop in Fort Simpson was the highlight of the trip. I met a guy at breakfast one morning who had worked with my Grandpa, I got to meet relatives I have never met, and I even got to get some turns in with a couple of my Cousins.
– Liam Gill
This video shows Liam's journey through competitive snowboarding up to 2021 and it has actual footage of him getting his tongue stuck to a gold medal!
This tour reinforced what I truly love about snowboarding and why I always will. Fort Smith uses a riverbank, Yellowknife uses a gravel pit and Fort Simpson uses a cutline going over a hill. The runs are not long or steep and some not even groomed, but the kids didn't seem to care especially the younger ones. I got to see myself in their faces as they ran back up the hill to strap back in and go again.
– Liam Gill
In Fort Simpson Liam awarded this brand new Cold Brew to a brand new snowboarder! "She never sat around, didn't take breaks and progressed throughout the two days in brutal conditions…"
YELLOWKNIFE
I had so much fun seeing so many examples of true love for sport and I can't wait to go back.
– Liam Gill
What ended up happening was we were able to bring attention to an area of Canada that is not thought of when you think about snowboarding or Olympic athletes. People from around the country heard about Liam and the tour and made contact, expressing their pride and support. This was really cool as there is a growing movement in Canada in regards to Indigenous Reconciliation and how that discussion is going to happen moving forward. Liam was able to take a small step into understanding who he is and where some of his family comes from.
– Joanna Gill
Note from Lib Tech:
This tour and blog post were made possible by a lot of people and organizations coming together who we'd like to recognize. A lot of the information and writing in this post is directly paraphrased from Joanna Gill and we thank her immensely.
The Liidlii Kue First Nations snowboarding program is led by Roslyn the LKFN Wellness Coordinator, thanks for the work you do!
Thank you to Erin MacDonald from Slide Zone Shredderz in Fort Smith and their Big Fun event. Erin worked with Tourism NWT to help with funding the tour travel.
Thank you Andrew Goodwin, NWT Snowboard Executive Director who is working on a movie about the tour also funded by Tourism NWT, stay tuned for that!
Thanks to Andrew "Rookie" Hicks for keeping Liam in dream boards and connecting us with this story.
Thanks to Liam's family Rosemary Gill and the entire NWT community.